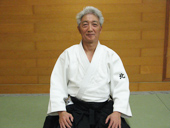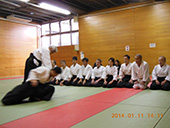 Shuji KITAMURA (6th Dan)
May 1975: started KEIKO at Aikido club of KDD, a corporation under supervision of the late Iwagaki who was a SHIHAN of HONBU.
July 1977: graduated from Aikido school of HONBU with 1st Dan(Shodan) permitted.
August 1977: received training and guidance from Moriteru Ueshiba, now AIKIKAI Doshu, then called "Waka Sennsei" who was in charge of KDD Aikido club as a coach.
December 1982: became a member of Fujishiro branch of AIKIKAI located in Fujishiro-cho Ibaragi and received coaching (SHIDO) from Hirosi Isoyama SHIHAN, HONBU.
January 1991:awarded 5th Dan at the time of kagami-biraki ceremony at HONBU.
April 1991: received SHIDO from Shigeru Sugawara SHIHAN who was in charge of KDD Aikido club as a coach.
September 1997: received SHIDO from Shimamoto SHIHAN at Shousen-ji dojyo in Toyonaka, Osaka.
June 1998: was appointed to be SHIHAN at AIKIDO SHINBUKAN and established Kyoto Rakusei Aikido club.
August 2000: awarded 6th Dan.
November 2002: Established Tokyo branch of AIKIDO SHINBUKAN.
February 2005: became independent as TOKYO SHINBUKAN from AIKIDO SHINBUKAN.
February 2006: Established SHUWAKAI.